Just a Kiss by Denise Hunter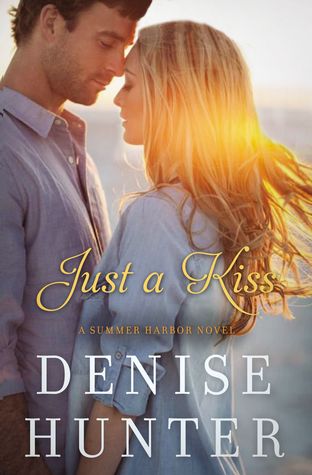 Riley joined the army to avoid watching his best friend, Paige and his brother in their relationship. Riley has known Paige all his life and has fallen for his best friend. When he hears that his brother and Paige have broken up, Riley plans to come home and declare his fillings. But as best laid plans happen, he returns from Afghanistan missing a leg. His feelings put distance between Paige and him. She desires to help her best friend but doesn't understand his actions towards her.
Denise Hunter always writes fast paced  romantic novels. This title is the last of the Summer Harbor series but can be read as a standalone. Reading this title you can tell there is more of a back story between the characters but can still enjoy this story. She is a master when it comes to family and romance stories. The side romance between the other characters, Sheriff Colton and Aunt Trudy, is sweet. Readers quickly find themselves  rooting for each character to complete the romance. Ms. Hunter places obstacles for each couple but the resolution of them is nicely paced. Just a Kiss is an enjoyable quick read for fans of romantic fiction and of Ms. Hunter. If I had read the first two in the series, I might have given it a higher review. Give this title to any Denise Hunter fan or any Romantic Christian fan who enjoys a quick read and revolves around families.
Note: I was given an electronic copy via Net Galley and the publisher, Thomas Nelson for an honest review.